| | | |
| --- | --- | --- |
| | Artist Index | |
This section gives biographic information about the groups and individuals that make up or at one time made up the On-U Sound family. This is done in terms of bands ('Acts') and individuals ('Personnel').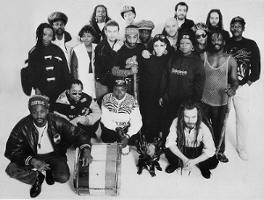 An On-U Sound 'family photograph' - circa 1993: Featuring Adrian Sherwood, Bim Sherman, David Harrow, Skip McDonald, Little Annie and members of African Head Charge, Akabu and the Revolutionary Dub Warriors, amongst others
(Photo: Coneyl Jay)
Overview
Adrian Sherwood's philosophy for recording and touring has always been built around the vision of musical collectives. That is, gathering together a talented group of singers and players and in different configurations sharing the same rhythms and sense of contractual freedom to produce good music - free from the constraints and strains typical of conventional bands.
As a result of over 25 years of working this way, probably a three-figure number of people have played some significant part in On-U's creative process on anything from one track to countless albums. While On-U Sound undoubtedly has some long established acts like African Head Charge, Mark Stewart (& The Maffia), Dub Syndicate and Little Axe, the individuals behind each record or touring band have often been very fluid, beyond the core musician(s) around which the act has developed (like Little Axe for Skip McDonald).
So to tell the story of On-U Sound in terms of acts alone would mean that the contributions of many excellent "behind the scenes" musicians and vocalists such as David Harrow, Talvin Singh, Shara Nelson, George Oban and Nick Plytas, credited only in the small print, would go mostly unsung.
This section attempts to shed light on the history of On-U Sound acts, put faces to names, give a sense of who did what and provide a greater feel for the historical depth and the organic way that Adrian Sherwood has steered his good ship On-U, whether through necessity, choice or chance.
Image Bank material / Personnel profiles
The associated Image Bank photo galleries of individual recording acts and personnel include links to other related act and personnel galleries. For acts, related galleries are generally of personnel who have featured on their recordings (though not necessarily all at the same time). For personnel, related galleries are generally those of acts that the individual has been associated with (again, not necessarily all at the same time).
To aid with differentiating between the often heavily interlinked act and personnel galleries, they are identified next to their individual title using Act:

and Personnel:

icons. A JavaScript-enabled browser is also required to open each act gallery and personnel profile.